10 signs you need Quote-to-Cash
What's in this whitepaper?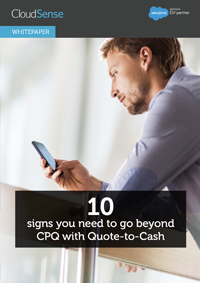 Configure Price Quote (CPQ) software is a proven tool to help companies generate fast and accurate quotes. But, in today's customer-centric era, software alone is no longer enough for successful sales. As a result, CPQ software has evolved to address not just the sales process challenges – but every step of the customer lifecycle.
This new generation of CPQ software, Quote-to-Cash, goes beyond Configure Price Quote to deliver an all encompassing, omnichannel solution. So, does your business need quote to cash?
We've taken a look at 10 key problems your organization may be experiencing that a Quote-to-Cash platform can help resolve. Do you suffer from:
Lengthy product launches

Slow manual process, leading to regular inaccuracies

A limited view of your customers

Missed opportunities for upsell, cross-sell and renewal

An inability to scale the business
These issues, along with a host of others, plague enterprise businesses worldwide.
Download our free whitepaper to define the problems your software is causing your business, and how Quote-to-Cash could help.