5 ways CSPs' eCommerce sites are falling short of customer expectations
February 02, 2017
Your customers' expectations have evolved exponentially, morphing alongside the recent technological advances that have driven entirely new customer behaviors.
If you want your business to thrive, you need to adapt and evolve alongside these behaviors – and you need to do it fast.
But, for Communications Service Providers (CSPs), meeting these ever-advancing customer expectations is made harder still by the fact that the best experience your customer has ever had, is now the measuring stick for their expectations for every business – regardless of industry.
Consequently, both B2C and B2B customers care little about the complexities you face dealing with bundles, or the relationship between BSS and OSS architecture – they just expect an exceptional customer experience across the board.
They want you to know them inside out and to provide personalized experiences based on this knowledge. But, customers also want interactions to be flexible and on their terms.
Successful CSPs will evolve into Digital Service Providers (DSPs) as they adapt their products and services to mirror customer behaviors – both now and in the future. That means supplying the fast, flexible and coherent omnichannel experience your customers desire today, while being prepared to move fast and meet the inevitable changes in customer behavior in the coming years.
So, with so much to do, where do you start your journey towards satisfying customer expectations?
Why your eCommerce offering is crucial to meeting customer expectations
Diversifying into digital products to increase your revenue isn't enough, you also need to provide an exceptional service across digital channels.
A huge stepping stone towards meeting customer expectations and becoming a Digital Service Provider, is the development of an exceptional eCommerce experience.
With 82% of customers researching purchases online prior to buying and the trends for purchasing online only increasing, you can't afford to neglect this common gateway to the customer journey.
But eCommerce browsers are notoriously fickle. With sky-high expectations and plentiful choices a mere click away, if you don't provide the customer experience they expect 89% of consumers will switch to a competitor.
And, while your online offering needs to provide a good standalone service, your eCommerce site will only be successful if it coherently links with the rest of your business – across channels, systems of record, and systems of engagement.
---
---
As a result, you can view your eCommerce experience as a microcosm, a kind of petri-dish, for the wider omnichannel expectations now placed on Comms providers.
Frustratingly, for many CSPs, the shortfalls of legacy platforms mean it's increasingly difficult to satisfy customers with your online offering.
But where are CSPs' eCommerce offerings falling short of customer expectations? And how can these areas be improved? We've taken a look below.
1/ Lack of flexibility
Flexibility. We've already mentioned the word a few times, but it's bound to keep reappearing due to its importance.
By its very nature, an eCommerce site provides your customers with some of the flexibility they crave: websites have no closing hours, never have waiting lines and can be accessed anywhere with a WiFi connection.
But these inherent levels of convenience are actually the minimum requirements for your eCommerce site.
This is down to the fact that, while they expect the option, your customers don't always want to talk to a customer agent or go in store to browse, buy or manage their products or services. In fact, Gartner predicted that by 2020 customers will manage 85% of their relationship without interacting with a human.
Your customers expect an eCommerce site to enable them to self serve. Offering them the freedom they desire to make or cancel orders, customize packages, build bundles and get the best deal available at that moment in time.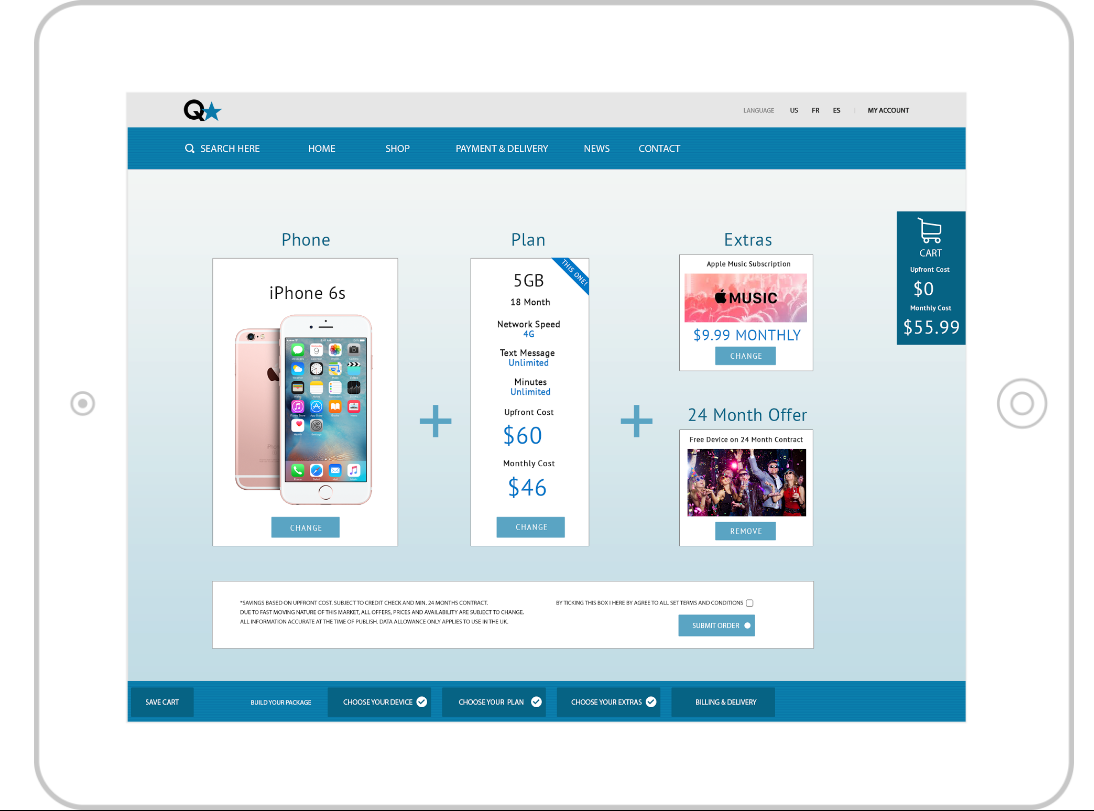 A smart site can also let users keep track of usage, recommend relevant products and provide the link to your other channels. It's this ease of access and control over their product that is exactly what today's communications customer expects.
And, while it satisfies your customers' appetite for flexibility and control, a fully functioning eCommerce site also reduces the strain on your customer service agents in contact centers and in store.
2/ Inability to provide a seamless omnichannel experience
We've highlighted that most of your customers start researching their purchases online. We also know that today's shopping behaviors mean that they're also likely to change devices or channels before their purchase is complete.
These behaviors make your ability to recognize visitors across channels and devices vital if you plan to offer the joined-up omnichannel CX customers expect.
If you're still relying on legacy platforms, your business will have to invest in a new platform to achieve omnichannel capabilities. But it will be worth your while – omnichannel customers shop more frequently and spend 3.5x more than other shopper types.
Your eCommerce offering should work seamlessly across devices and link smoothly with other channels – from contact centers to retail stores.
With the prevalence of sequential shopping and the fact that 56% of shoppers use their cart to save items for later, using omnichannel capabilities to offer the likes of a persistent cart across channels also offers continuity for both your customer and your customer service agents and will increase your conversions.
But providing this omnichannel service isn't possible without a single customer view (SCV). And, despite the undoubted benefits to CX, only 18% of companies currently use a single customer view for their marketing due to the limitations of their platform.
---
---
3/ Inconsistency across channels
Offering a persistent cart across channels is just one CX advantage that an eCommerce platform with omnichannel capabilities offers. Another is consistency.
71% of customers react negatively to brand inconsistencies across devices and channels.
Serving up inconsistencies across your channels either confuses customers or makes them lose confidence in your brand. Either way, it's endemic of a lack of visibility across your business as a whole.
You can't think of your eCommerce offering as an island – it needs to link to the rest of your business – from your product catalog, for accurate pricing and details, to your customer service agents, so they can provide a personalized service. If it doesn't, you're going to disappoint your customers.
From their point of view your brand is your brand, it matters little whether they're talking to a call centre or shopping in store. If customers are receiving different information about your products or prices on different channels it makes for a dreadful CX.
An omnichannel service enables you to give customers the consistency they expect in terms of pricing, promotions and stock levels, across every channel.
To provide this you need a digital experience platform that links your engagement, sales and data with a coherently tied CRM, commerce and marketing function. From this platform, a single, flexible product catalog can ensure changes are reflected across channels, in real time.
4/ Delivering generic experiences
Your customers desire more than a generic one-size-fits-all experience.
Just as a helpful salesperson in your store would provide tariff recommendations based on the customer's wants and needs, communications customers expect the same online:
If you can't provide personalized experiences, once again, customers aren't going to hang around, 54% would end their relationship if they are not given tailor-made relevant content and offers.
A single eCommerce platform providing a SCV will endow you with a much better knowledge of your customer – making personalization easier. But there are other ways using an advanced eCommerce platform and smart cart can deliver the personalized customer experience businesses and consumers crave.
By predefining your combinations of products and services in your product catalog, you give customers the license to create their own personalized packages. They can then choose a personalized bundle of products and services, with the price dynamically updating in their cart.
With a smart eCommerce platform you can also give customers their 'next best action' – and push relevant product recommendations based on your business logic, providing more of the personalized experience your customers expect.
5/ A slow & insecure site
The speed of your eCommerce site and its ability to handle high volumes of traffic are vital if you stand any chance of success.
Browsers have low attention spans, and they're only worsening. The average human attention span has reduced from 12 seconds in 2000, to 8.25 in 2015.
That's right, technology has provided us with so many distractions that our attention span is now worse than that of a goldfish.
It's this low attention span, as well as an inherently impatient nature, that means you need speed and minimal distractions to keep your customer engaged and on the path to purchase.
A recent study revealed a slow site as the number one reason to abandon.
And Statista's table listing reasons for cart abandonment, also points to a number of reasons for abandonment being linked to speed or the inability to handling high volumes of traffic on a site. (The reasons for abandonment we're alluding to are: website crashed (24%), website was taking too long (21%), website timed out (15%).)
Clearly, a fast site that isn't liable to crash or timeout is a key factor in providing a CX that keeps your customers engaged and willing to convert. The main factor that affects your website's ability to live up to this criteria is your eCommerce platform's ability to deal with high volume.
The capability to cope with varying traffic volumes can be achieved using a platform with an elastic architecture, this flexibility brings secure performance and speed whether you're making complex business or high volume consumer sales.
DSPs require a seamless eCommerce experience
Rampant digitisation means that online channels now play a central role in how your customers interact with your business, and this reliance on digital is only going to grow.
As a result, the need to shift from being a CSP to a true Digital Service Provider – and to make interactions easier for your customers, without simplifying your products – is more pressing than ever.
The heavy onus on digital channels, both today and in the future, means that a vital element in satisfying your customers' advanced expectations is a slick and seamless eCommerce customer experience.
As we've outlined, many CSPs currently fall short of providing this experience – but it is within touching distance.
By using a single platform, coherently linked across systems of engagement and systems of record, you can deliver the personalized, flexible and fast omnichannel buying experience your customers crave.
The CloudSense Platform enables leading CSPs worldwide to exceed advanced customer expectations in eCommerce.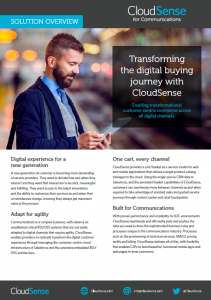 If you'd like to find out more, download our Solution Overview today to see how CloudSense can help you:
Increase customer satisfaction and stickiness

Improve product and pricing accuracy

Provide omnichannel customer engagement

Optimize your sales and buying processes