7 things you wanted to know about CPQ
What's in the guide?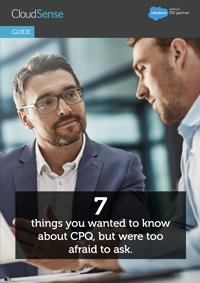 CPQ's popularity is rising, but the technology has been around for a while. The software is a proven way for companies to accelerate their ever-important quoting and sales process. But CPQ has now moved beyond its traditional definition and evolved to support more aspects of the customer lifecycle.
If you want to learn the CPQ basics, we've covered 7 need to know questions in our easily digestible guide.
Download your free guide for a better understanding of Configure Price Quote, including our insights on:
What CPQ is and who uses it

How businesses worked before CPQ

Where CPQ can be used and implemented

How to sell CPQ internally if you think your business needs it